Android operating system dominates the smartphone and tablet space. Infact, more than 85 percent of all smartphones run android. Same can be said about the tablets which are dominated by Samsung Galaxy Tabs which run android as well. Recently, there has been an increase of malware which can send your private photos and information back to the hacker. For this, the user needs to install an antivirus application that can protect your android tablet or phone from harmful apps and games.
The one we recommend to our users is the AVG Antivirus. To download it, just search for AVG antivirus in the google playstore and download it. It is compact in size and does not take more than a minute to download and install.
The first thing to do after installing the AVG antivirus for android is do a full scan of your phone. Simply tap the big orange button to commence scanning of your phone. The application is capable of scanning both internal and external storage so that this. This is an important step as you would want to free your phone from any existing virus, Trojan or malware.
The AVG antivirus runs in the background without bogging down your phone. It keeps an eye on the activities of the applications and games you've installed. If an app is trying to send your PIM or personal data back to the developer or hacker, it alerts you and blocks that attempt.
It also has Wi-Fi security scan feature where it prevents you from connecting to unsecured wifi networks or networks with poor security. Such networks are often associated with stealing your phone's information and sending it back to the hacker.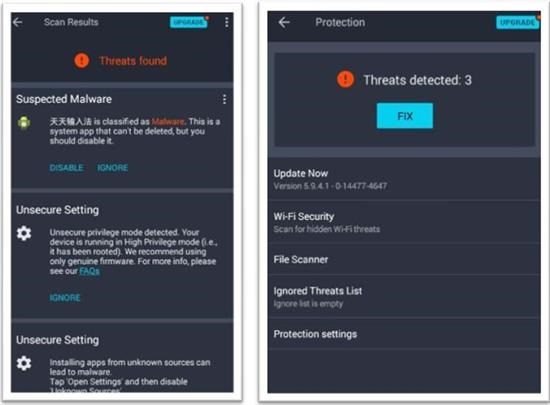 AVG antivirus keeps an eye on the security settings of your android tablet or phone and makes sure they are in order. If something is lacking or potentially hazardous, it alerts you and guides you in improving the security. It comes with several other useful features as well. Our favorite is Vault where you can hide your private photo collection from other users. Photos stored in the vault are hidden from the android's file system and do not appear in the photos or gallery application.
Verdict – AVG antivirus is a must-have application for all android tablet and phone users. If you do not have it onboard, you are putting information stored on your device at risk.