The latest tablet from Samsung is here and it is being touted as the best Android tablet out tehre. It gives you access to loads of applications and optional 4G connectivity.
So what should you know about the Samsung Galaxy Tab S.
1. One of the best tablet screens
There is no point in getting a tablet if it does not have a crisp display. Samsung is calling it the "the industry's best display" thanks to amazing combination of super high resolution and advanced color reproduction. It can automatically adjusts the screen mode based on whether you're watching a film, flicking through photos or just browsing the web.
2. Thinnest and Lightest Sammy's tablet
The Tab S comes in two sizes – 8.4 inches and 10.5 inches and both tablets are very light. The 10.5 inch tablet weighs just 465 grams. This makes it lighter than all the Android tablets out there. Also it is just 6.6mm thin and thus you will barely notice it in your bag.
3. Fingerprint reader
The Tab S comes with a fingerprint scanner built into the screen and not only does it feel cool to unlock your tablet, it also means that your private data will beas you safe and sound even if the tablet ever falls into the wrong hands.
4. Split screen multitasking
If you love split screen multitasking you will adore the Galaxy Tab S. This will allow you to be more productive as you will able to work on two windows at a time.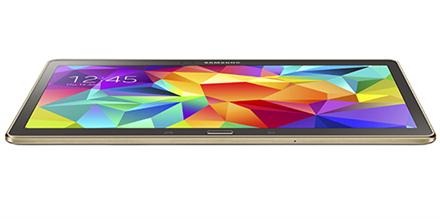 5. Productivity booster
You can easily and wirelessly transfer files and information between the Tab S and a Galaxy smartphone thanks to SideSync 3.0.
6. Freebies
With the Tab S you get three months of Sky Movies from NOW TV for free, as well as 1,500 Marvel Comics and access to news and magazines through Paper garden.