Few years back when Android made its debut into the mobile operating system market, one of its strongest points was the ability run SWF files natively. But when Android v4.1 made its debut then suddenly Adobe dropped the support and people were no longer able to view SWF files on their Android devices including the Samsung Galaxy Tab.
Now there is a way to view and SWF movies on the tablet thanks to the amazing SWF converter from Movavi. The converter lets you convert SWF to MP4 which are natively playable on any android device including Galaxy Tab series. These converted files are also playable on any modern operating system without conversion. Samsung's native video player supports MP4 with hardware decoding that plays video without burning a lot of battery. Even the new windows media player is able to run these MP4 files natively which is a big plus.
Galaxy Tab tablets come in many resolutions. For instance the Galaxy Tab Pro has ultra high definition screen whereas the first gen Tab came with WSVGA display packing 1024 x 600 pixel resolution. The Movavi SWF converter lets you customize and tweak the output settings including the ability to change the frame rate and choose video codecs. You can even define a custom resolution if you are not specified by the resolution shown by a present. This way you are able to crisp and amazing video output.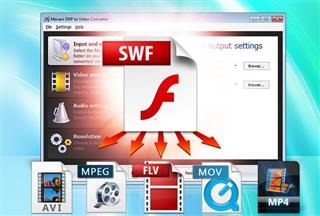 The Movavi video converter also lets you prepare the SWF files for the DVD players. Simple tell it the input file and output file to MPEG-2 video format. Then burn those files to the DVD for media players and view them on the HDTV.
There are some audio editing abilities included with the Movavi video converter as well. For instance you can add a new sound track to your SWF files. For doing that just make a selection to the sound checkbox on the audio settings tab and choose micro phone.
Download and installing Movavi video converter is a piece of cake. Just get the 21.5 MB installer from their website and install it on your computer. All windows operating systems including 2000 / XP / vista and 7 are supported. Supported formats are DV, H.264, MPEG-4, MJPEG, DivX, Xvid, MPEG-1, MPEG-2, MP4, FLV and MPEG-4. The application is also able to encode the videos for other devices such as iPhone, iPod, iPad, Sony PSP and windows phones.