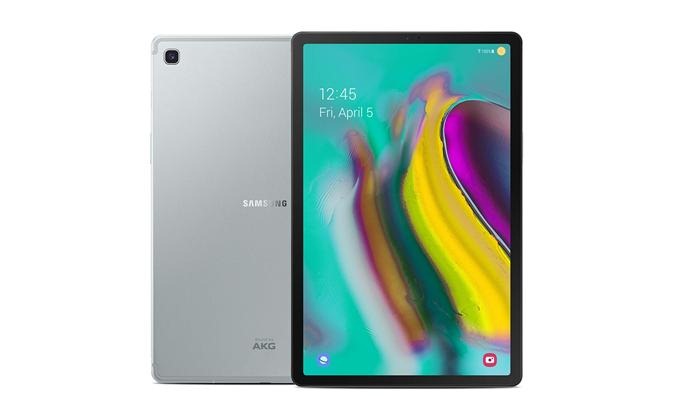 This guide will help you root Samsung Galaxy Tab S5e, which bears model number SM-T720. To root Tab S5e, you will need a windows laptop with more than 25GB of free space. You would also require the original Samsung USB Type-C cable and we prefer using the one that came in the box.
Before you begin, log out of both Samsung and Google accounts and backup any data as it will be lost during rooting process.
Download and install official Samsung USB drivers, 7-zip, Odin, Frija and magisk manager APK.
Download the correct firmware using Frija.
Now, unlock the bootloader. For this, power off Tab S5e, connect only USB cable to laptop, but not to the tab. On your tablet, hold the 'Volume Up' and 'Volume Down' keys at the same time. Now, connect the tablet to PC via USB cable. Make sure both keys are pressed during and after inserting USB cable so that you get the Warning message on tab's screen. Hold Volume up key for approximately 4 to 5 seconds, release the 'Volume Up' key and you will be presented with one last warning. Press and click on the 'Volume Up' key again.
Let the tablet do its thing as this will unlock the bootloader. Unzip the firmware using 7zip.
Extract AP_T720XXU1ASF1_CL15813856_QB24038915_REV00_user_l ow_ship_MULTI_CERT_meta_OS9.tar.md5 from
SM-T720_1_20190603182427_gegcc1ebw1_fac.zip. 7Zip will do its thing.
Delete ALL files except for the following:
SM-T720_1_20190603182427_gegcc1ebw1_fac.zip
AP_T720XXU1ASF1_CL15813856_QB24038915_REV00_user_l ow_ship_MULTI_CERT_meta_OS9.tar.md5
Rename the extension of 'AP_T720XX…..tar.md5' to 'AP_T720XX…..tar' and ignore the warning. Folder contents should now look like this.

Now that your Samsung Galaxy Tab S5e was left to reinitialize, login to your WiFi but make sure not to login to your Samsung or Google account. To ensure you have successfully unlocked your Tab S5e, follow these steps.
If you do not OEM unlocking is not greyed out, then it means you did something wrong.
Now, connect your tab to computer and let it "Allow access to tablet data".
Copy, MagiskManager-v7.3.2.apk and AP_T720XXU1ASF1_CL15813856_QB24038915_REV00_user_l ow_ship_MULTI_CERT_meta_OS9.tar to your tab using file explorer.
On your device, install the MagiskManager-v7.3.2.apk. Open Magisk Manager > install Magisk > "select and patch a file" > Allow > browse for the tar file that we copied along with open Magisk Manager. This will start the flashing process.
Once the process completes, transfer back the tar file to PC. Delete 'AP_T720XX…..tar' and copy 'magisk_patched.tar' back to your Laptop/PC; preferably to firmware directly made earlier. Now delete AP_T720XX…..tar.
This should leave you with TWO files:
SM-T720_1_20190603182427_gegcc1ebw1_fac.zip
magisk_patched.tar
Extract contents of 'magisk_patched.tar'. Delete following files from extracted folder.
dtbo.img.lz4
magisk_patched.tar
modem.bin.lz4
persist.img.ext4.lz4
system.img.ext4.lz4
userdata.img.ext4.lz4
vendor.img.ext4.lz4
In end, you will have following.
meta-data [FOLDER]
boot.img
recovery.img
vbmeta.img
Select all > right click > Add to archive. Call it magisk_patched and change archive format to tar > Ok.
Now, turn off your tablet, disconnect USB cable and switch to charging mode. Hold down volume up and power together until android recovery appears on your screen. Select 'Reboot to bootloader' to properly put your device into 'Download Mode': Press power to confirm your choice.
Connect your tab back to computer. Fire up ODIN > second tab > options > uncheck auto reboot. Click on AP and select magisk_patched.tar that we created earlier. Click start to flashing of patched firmware.
Follow these instructions –
Hold 'Volume Down' and 'Power' until the screen goes black (also known as a 'Soft Reset').
The moment the screen goes black, continue to hold down 'Power' but QUICKLY switch so now only 'Volume Up' is being held.
Do this until you enter 'Android Recovery'.
As outlined in 'SECTION ELEVEN', use the 'Volume Keys' & 'Power' to navigate the menu.
First select 'Wipe Data/Factory Reset' and, upon completion, choose 'Reboot System Now'.
Your device will reboot several times. This is expected behavior.
Again, on your tab, do not log into any accounts while setting everything up using WiFI. Install magisk manager again apk. After that, power it off. Press volume up and power key together. Make sure device is not connected to anything. Release all keys, letting tab to boot. Launch magisk from app drawer > direct install. Let its due its thing.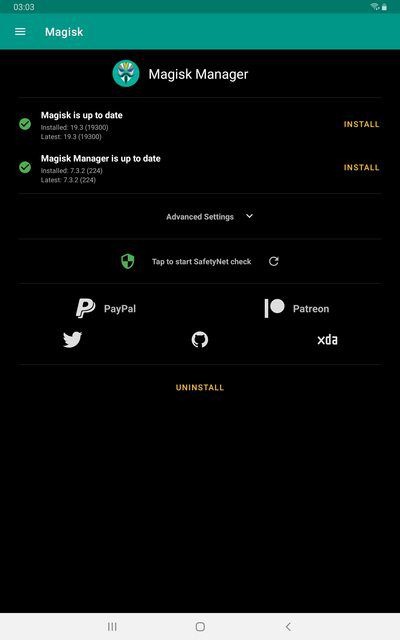 Once set up is done properly, Magisk Manager will look like this.