We got a preview of ICS build for 10.1 way back in December. Verizon is rolling out official ICS update for the Samsung Galaxy Tab 10.1.  The tablet was released with Honeycomb (Android 3.2), which provided amazing tablet experience. Android ICS update will only enhance it further.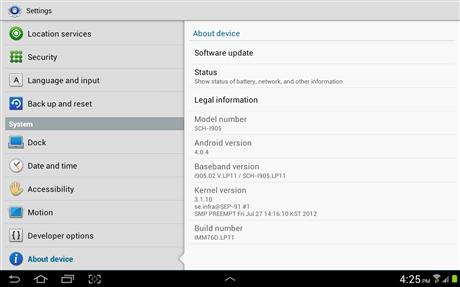 Features added are:
* Pinch to Zoom functionality in homescreen and main menu screen
* Integrated Google Plus
* Integrated Google Text-To-Speech Engine
* New features in the email client
* Redesigned Gallery app with photo editor, bringing new sorting options, improved photo studio and Picture Gallery widget.
* Improved camera app: new features include continuous focus, zero shutter lag exposure, stabilized image zoom, single-motion panorama and built-in face detection.
* Wi-Fi Direct support
The size of update is 248MB and is called i905.LP11. Keep in mind that this is for the first generation Galaxy Tab 10.1, not Tab 2 10.1.