Samsung Galaxy Tab 8.9 Overcome ROM
Galaxy Tab 8.9 has been out from quite some now and people have now started developing custom ROMs for it. The ROM that is gaining the most popularity is the Overcome ROM. This ROM is fully Deodexed ROM, zipaligned and is based on Android 3.2 firmware.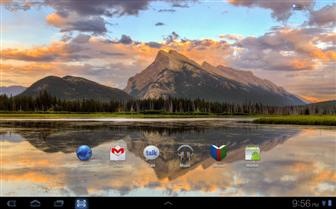 It currently sports the Honeycomb look but you can install ICS theme on top it to give it Android 4.0 look. Other nifty features of this ROM include Ad blocker and latest versions of contacts, calendar, books, music, flash player and Samsung apps.
Here are the installation instructions:
* Download Overcome CWM "tar" file from links below (regular CWM will work just fine as well, they are 100% interchangeable)
* Put the tab in download mode (Turn Tab off, then press power button and volume down until you see the choice to boot download mode or recovery. Press volume up to select download mode)
* Flash the Overcome CWM tar file you downloaded earlier by putting it in the "PDA" slot. Allow tab to reboot fully.
* Download the appropriate install zip from below and put it in your Tabs internal storage
* Reboot into CWM recovery (Turn Tab off, then press power button and volume down until you see the choice to boot download mode or recovery. Press volume down to highlight recovery, then volume up to select it.)
* Navigate to install from zip, choose the install zip and install away. INSTALL WITH DATA WIPE IS RECOMMENDED FOR v2.1.1.
* However, if you wish to attempt a non-wipe device, follow these instructions: Install zip without data wipe, after reboot you will have tons of FC. Go into manage apps and clear data on Calendar, Calendar Storage, Contacts, Contacts Storage, and Clear Launcher (unfortunately you have to do it if launcher crash). Reboot again into recovery and wipe cache. Reboot and you should be up and running free of FC.
* Wiping data is highly recommended, especially if coming from a stock rom or another rom. You can do this after the install from the main screen of CWM recovery. [via xda]
Download link – Overcome_CWM_Recovery_v5.1.2.6_P73xx – [LINK]
Related Galaxy Tab news
Related Content