Galaxy Tab 7 / P1000 is an amazing tablet. However, you can do much more with the tablet after rooting it. This includes messing with the system files and of course, custom ROMs and themes. It will also let you enjoy those apps and utilities that require root access. So, here is the 'how to' guide for the Tab. Keep in mind that this for the first generation Galaxy Tab.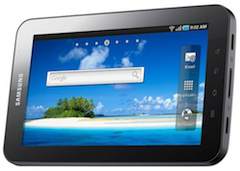 First, download the Kies software and super one click from the links given at the bottom of this post. Sync with the Kies once with debugging mode disabled. Disconnect it from the PC.
Then, enable the debugging mode on your Tab by going into Settings > Applications > Development > USB Debugging and connect to your PC once again. Start the SuperOneClick and click on root. Wait for 5 minutes to complete the whole process. That is it. You have successfully rooted your Samsung Galaxy Tab.
[super one click download link] [galaxy tab kies download link]