An XDA developer has released a pre rooted and deodexed firmware for the Samsung galaxy tab S tablet. Main feature of this ROM is that it is prerooted, de odexed, zipaligned and has busybox pre installed. It also comes with Aroma installer that allows the user to personalize the ROM.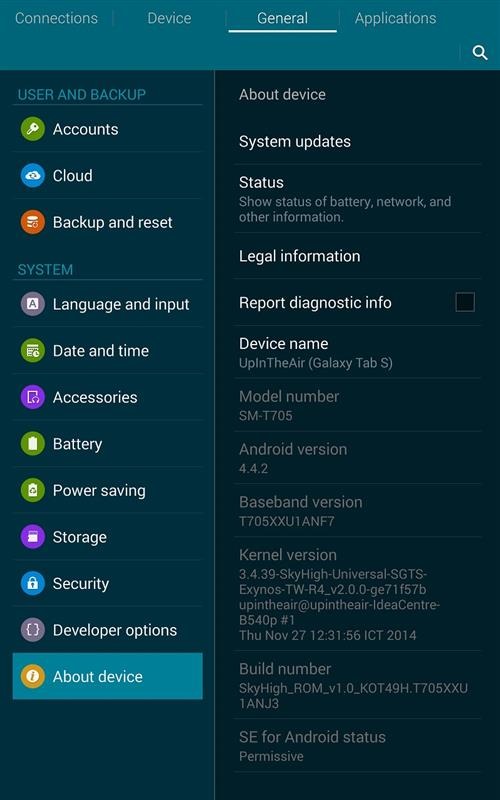 Aroma Wipe options include:
* Regular Wipe [NOT RECOMMENDED: Wipes system, cache & dalvik-cache partitions only]
* FULL Wipe [REQUIRED: Wipes system, data, cache & dalvik. /data/media is not touched]
Multi CSC support for these countries:
CRC – Costa Rica
XEF – France
DBT – Germany
EUR – Greece
TGY – Hong Kong
XID – Indonesia
XSE – Indonesia
ILO – Israel
ITV – Italy
KOR – Korea
XME – Malaysia
PHN – Netherlands
NEE – Nordic Countries
TEN – Norway
NZC – Papua New Guinea
XTE – Philippines
GBL – Philippines – Globe
SMA – Philippines – Smart
XTC – Philippines – Sun Cellular
XEO – Poland
TPH – Portugal – TPH
ROM – Romania
SER – Russia
MM1 – Singapore
XSP – Singapore
SIN – Singapore – SingTel
STH – Singapore – Starhub
XEC – Spain – Movistar
HTS – Sweden
SWC – Switzerland
THL – Thailand (Default)
BTU – United Kingdom
XEV – Vietnam
XXV – Vietnam
Aroma app can be installed from Play store using this link. You can install the ROM using stock kernel or overclocking kernel – both are supported. Pre requirements for installing the ROM:
SM-T705 Exynos5420 galaxy tab S
Touch Wiz Kit Kat 4.4.2. Official T705XXU1AOA1 firmware recommended.
Custom recovery: CWM or TWRP
Installation instructions
Save ROM zip to internal or external SD card
Boot into CWM or TWRP recovery
Power off
Hold volume up + home + power buttons (don't release until see recovery screen)
Follow recovery menu to BACKUP your current ROM
Follow recovery menu to flash ROM zip
FULL Wipe install: REQUIRED for first flash of this de-odex ROM! Wipes system, data, cache & dalvik. /data/media contents on int/ext storage is NOT wiped
Reboot when finished. It can take a few minutes for first boot.