Many opt for the Samsung Galaxy Tab 7.0 Plus instead of Tab 10.1 because of the portability factor. As the Tab Plus is narrower, it has a great potential to be the best note taking tool out there and that is why perhaps Samsung offers a conductive stylus for the users that are into scribbling and note taking. Here is a review from an xda user whose wife bought him this stylus.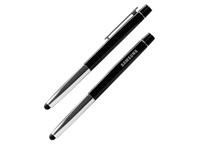 She bought it for me for a gift and at first I was skeptical because I had not used one before. But I quickly adapted to it and now the stylus goes with me everywhere I go (it works great on my Atrix and the touch screens at work).
The stylus has greatly reduced the need to constantly wipe the screen of fingerprints, although the rubber tip does leave a barely noticeable smudge on occasion. I find that my accuracy is much improved, especially trying to click on tiny hot links.
Swiping is intuitive as well, but if you swipe too quickly it may skip. You also need to get a feel for how hard to press down on the tip. As far as using drawing or note taking apps, I don't use either, but I have done some scribbling and note writing as a test on the stock pen memo app that came with the tablet and the stylus seemed to work fine. Just don't expect razor sharp detail in your penmanship or artwork.
As I would expect from a Samsung product, the build quality is fantastic. The black and chrome finish looks classy and the stylus has a solid heft to it. The barrel is roughly the diameter of a regular writing instrument and has a very natural feel when held in my small/medium sized hand.
I'm actually considering getting two more so I can have one at home, at work and one in the car, so I'll always have one available. Yes I've forgotten to take it with me and went through withdrawal.