Overcome ROMs are best known for yielding great performance and stability. Its developer has released ROM for the Samsung Galaxy Tab P1000 as well. Here are its features: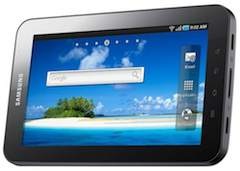 * JPA Base Rom – ANDROID 2.3.3
* Overcome kernel 4.0.0 included
* No Modem is included – due to a variety of personal preference I decided to leave that
* Fully Deodexed
* Fully Zipaligned
* Rooted with busybox installed
* Reboot/Recovery/Download options added to the power menu
* Accurate battery mod
* Blur removed across system (i.e. behind power option menu) – significantly improves performance
* Power Off confirmation disabled
* Screen off animation enabled
* Overscroll Glow effect enabled
* Added AppWidgetPicker
* CSC set to XEU
* Ads Blocked
* Updated Market to 3.2.0
* Updated Maps to 5.11.0
* Flash Player removed due to compatibility issue – install from market and you'll be all set.
* Updated GMail to 2.3.5.2
* Updated YouTube to 2.2.16
* Updated SamsungApps to 2.6.046
* Updated StreetView to 1.6.0.6
* Updated Thinkfree Office Suite
* Removed Startup/Shutdown sounds
* Cool boot animation
* A2DP Bluetooth Connection Fix Integrated
* SIP calling enabled over 3g AND WiFi
* Fugutweaks integrated
* Browser mods (enabled "Default Zoom" in settings, added "User Agent" in settings, set plugins to "on demand" by default)
Here is how to install it.
This document is an attempt to guide you through the basics of installing the Overcome ROM & Kernel onto the GSM-based Samsung Galaxy Tab. One of the aims of this guide is to provide the latest information with regards to the installation of the ROM/Kernel, and act as the standard reference to the recommended installation process for all users, especially when it comes to troubleshooting.
Make sure you have at least 3GB of space free in your INTERNAL SD if you're not on the ext4 filesystem, if not, you might not complete the conversion correctly.
Download the ROM – link for ROM. Copy the update zip file at the root of your internal SD. Then fire up the CWM recovery, and choose the "install menu", then select "choose zip from internal sdcard" and look for the ROM file. Then update away.
Some points to keep in mind:
Basically is you've never installed a custom ROM before, if your Tab is running the stock ROM or if you've installed a ROM from samfirmware.com, it'll be best to look at this preparatory steps below, especially if you're coming from the stock Froyo 2.2-based ROMs:
[REQUIRED FOR FROYO-BASED TABS ONLY:] Your Tab must be rooted. You can find Galaxy Tab Root instructions at GTR (GalaxyTabReview.com – http://galaxytabreview.com/p1000/rooting-guide/)