Samsung does not offers USB flash drive on the Galaxy S3, atleast natively and the company gave the Galaxy Tab 10.1 same treatment. Fortunately, the Galaxy S3 UMS mode has been adapted to work with the tab 10.1. The utility is straight forward – it allows the user to mount the external SD card as USB flash storage device.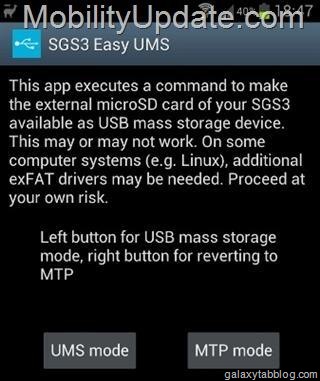 Keep in mind that the internal storage will still be mounted in MTP mode, not as a flash storage device. Also, to use this utility, you need to be running the official stock firmware and rooted. If you have not rooted your Galaxy tab 10.1, feel free to follow Galaxy Tab 2 10.1 Root guide to root it.
Download the UMS utility from here.