Samsung is all set to release the updated version of 10.1 tablet, the Galaxy Tab 10.1 in Australia. Optus will be the first Australian network provider to offer it and it will be released on June 18, 2012. You will be able to get it under both Consumer and SMB plans. Here is an image that tells plans in detail along with the price.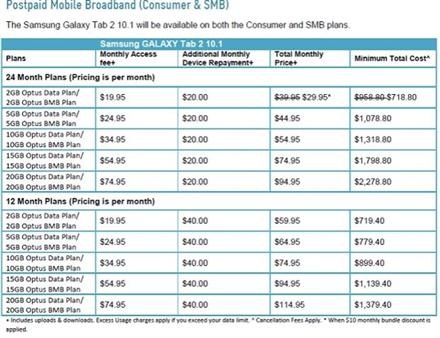 As you can see, you can get it with a 12 month or 24 month contract. Specs include 10.1 inch screen, Ice Cream Sandwich, and features a 10.1 inch display with 1280 x 800 pixels, TouchWiz UX, 1GHz dual-core processor, 1GB of RAM, MicroSD card support, 3MP rear camera, and a 2MP front-facing camera.
Also check out white galaxy tab 10.1.